EAGLE ROAD & FLYDALS GORGE
This is a private excursion for those that do not want to spend most of the day going up and down our fantastic valleys and mountains, but still want a small and beautifulview of Geiranger's scenery and the fjord. Join us for the panoramic views from the famous Eagle's bend and Flydals Gorge.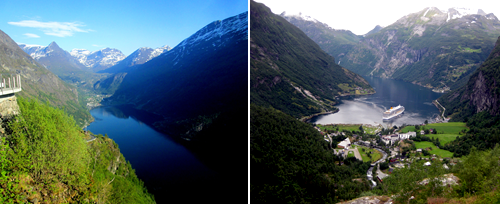 Your private tour starts as soon as you disembark your ship in Geiranger. Your driver for the day will meet and greet you at the pier with your name sign. The pier is quite small, so the driver should be easy to spot.
From Geiranger you start by driving up Eagles Road to Eagles Bend at 620m/2000f AMSL, to enjoy the spectacular panoramic view of the Geiranger Fjord, the Seven Sisters waterfall and the village of Geiranger, nestling alongside a smaragd-green fjord underneath the mountains.
After a photo stop you continue back through the village and up Geirangervegen (Geiranger Road) with its hairpin bends towards Flydals Gorge (Flydalsjuvet) 320m/1050f AMSL . One of Norway's most photographed viewpoints. From the top of an 80m/260f deep gorge is the famous view back to Geirangerfjord and the cruiseships. Ask your driver how to get "the picture" from the overhanging rock.
From Flydalsjuvet you return to Geiranger.
Please allow 1,5 – 2 hours for this excursion.
Contact us for a price, and please include in your request; date and time for your tour, and how many you are in your party.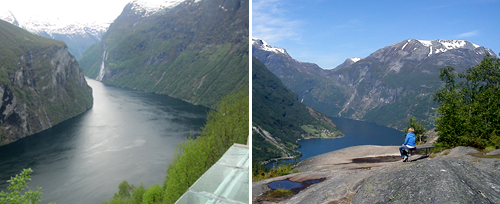 Geiranger
Geiranger is the jewel in the crown of the Norwegian fjords. It is a fairytale landscape with its majestic, snow-covered mountain tops, wild and beautiful waterfalls, lush green vegetation and the deep, blue fjord.  The history of Geiranger can be traced back to the Viking period. The village was relatively isolated until the mid-1800s, when the tourism industry began to blossom. Today, the tourism industry continues to flourish. Geiranger has a year-round population of about 300 residents—and it welcomes approximately 700,000 visitors each year.
Geirangerfjord – A World Heritage Site since 2005.
Situated in south-western Norway, north-east of Bergen, Geirangerfjord, are part of the west Norwegian fjord landscape, which stretches from Stavanger in the south to Andalsnes, 500 km to the north-east. The fjords, among the world's longest and deepest, are considered as archetypical fjord landscapes and among the most scenically outstanding anywhere. Its exceptional natural beauty is derived from its narrow and steep-sided crystalline rock walls that rise up to 1,400 m from the Norwegian Sea and extend 500 m below sea level. The sheer walls of the fjord have numerous waterfalls while free-flowing rivers cross its deciduous and coniferous forests to glacial lakes, glaciers and rugged mountains. The landscape features a range of supporting natural phenomena, both terrestrial and marine, such as submarine moraines and marine mammals. The fjord is about 300 meters deep.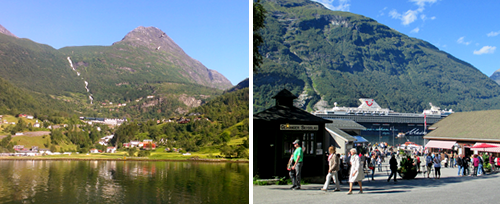 Ørnesvingen
The Eagle's Bend is the name of the steepest stretch of road that runs up the mountainside from Geiranger towards Eidsdal on route 63. The road twists and turns through 11 hairpin bends from Geirangerfjorden up to the highest point 620 meters above sea level at Korsmyra. The Eagle's road was officially opened on 15 September 1955 and provided the village of Geiranger with a year-round road link. It became a tourist attraction from the very first day, and acquired its name because at the top it ran through an area traditionally associated with high numbers of eagles. The name also suggests something wild and spectacular and, if you drive along this road, that is exactly what you will experience, especially if you stop at the Eagle's bend, which is the uppermost hairpin bend. It is possible to park here and make the most of the huge view over Geiranger, Geirangerfjorden with its numerous cruise ships, De syv søstrene waterfalls and the mountain farm of Knivsflå.
Flydalsjuvet Gorge
Flydalsjuvet offers an impressive view and is a good spot for pictures of Geiranger and of Geirangerfjorden with its many cruise ships. One of the most famous motifs in Norwegian advertising was taken from this point. The "Fjordsetet" installation, which was unveiled by Queen Sonja in September 2003 as part of the 10th anniversary of the local Fjord Norge AS Company, is located on the lower plateau.
Our drivers speaks fluent English, are experienced, licensed, and have excellent local knowledge. Please do not hesitate to ask him/her about local history, information about the beautiful scenery you are traveling through or anything else that is on your mind. The itinerary is mainly a suggestion and a guideline for your excursion. If you want to make extra photo stops, just let us know. We will find somewhere safe along the way for those magic photo moments.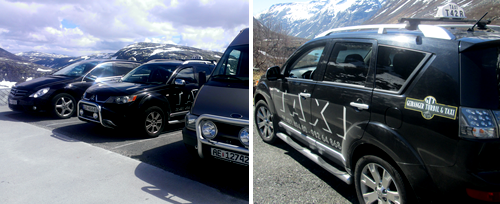 All private tours can be "tailor made" to your needs and wants. Even though we try to give you an estimated duration of your private tour, it is just an estimate. Please keep in mind that during the high season many visitors and tourists are joining us on the road to experience this wonderful scenery, so there can be a quite a lot of traffic going to our spectacular view points and attractions.
We do have different vehicles in our limited fleet ranging from smaller 3-4 seat sedans to minibuses. Since all our vehicles are in high demand during the high season and there are often last minute changes, we may not always be able to guarantee a specific vehicle at the time of your private tour.
Our uniformed drivers will meet and greet you with your name sign at the pier right after you disembark your tender or the Sea Walk (gangway) at the confirmed meeting time,  if no alternative arrangements are made. The  pier and the center of Geiranger is quite small, so don't worry, if you are unable to find our driver, our vehicles in Geiranger are lined up next to Geiranger Skysstasjon Café, about 50 meters/165 feet away from the passenger pier and just above the Tourist Information. (Please do not hesitate to inquire about our "missing" driver to the friendly staff in Geiranger Skysstasjon Café or call us at +47 40003741).
Please note that in high season, when demand is high, we might not be available or may need to change the confirmed start time of your private tour. We are in control of many things, but unfortunately never the weather but our drivers will always be able to suggest alternatives, if there are unexpected problems.  But essentially Geiranger, the fjord and the surrounding areas are all about the spectacular, wild and majestic nature, and sometimes the rough weather can be an attraction in itself.